With today's real estate market moving as fast as it is, working with a real estate professional is more essential than ever. They have the skills, experience, and expertise it takes to navigate the highly detailed and involved process of selling a home. That may be why the percentage of people who list their houses on their own, known as a FSBO or For Sale By Owner, has reached its lowest point since 1985 (see graph below):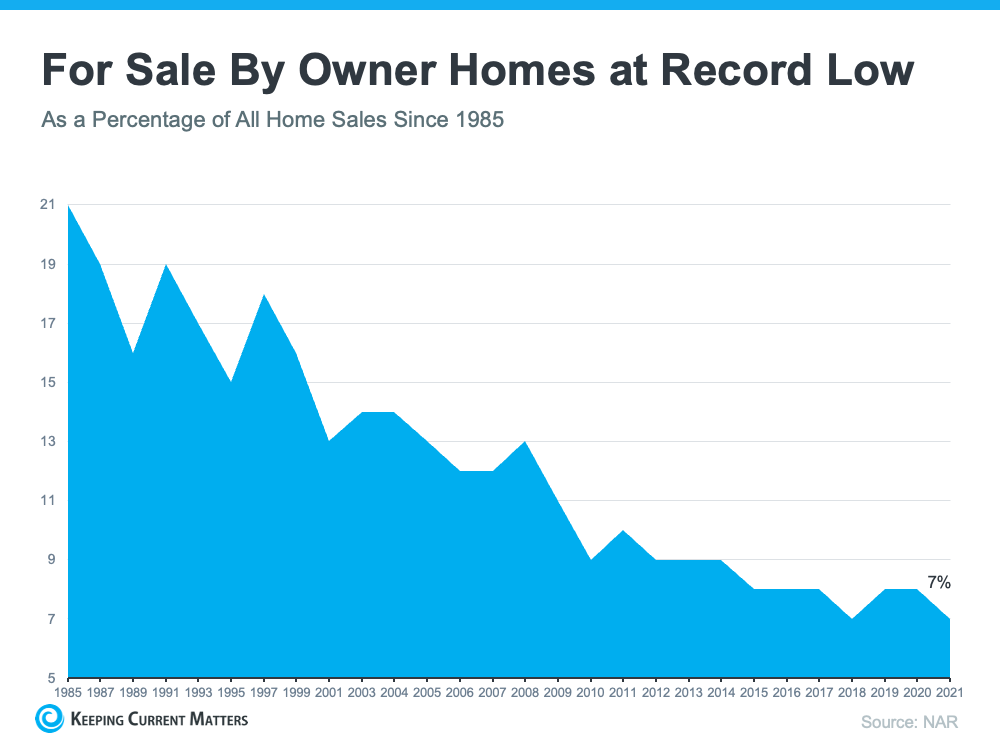 Here are five reasons why selling with a real estate professional makes more sense, even in today's hot market:
1. They Know What Buyers Want To See
Before you decide which projects and repairs to take on, connect with a real estate professional. They have first-hand experience with today's buyers, what they expect, and what you need to do to make sure your house shows well.
If you don't lean on their expertise, you may spend your time and money on something that isn't essential. That's because, in today's low-inventory market, buyers are willing to take on more of the renovation work themselves. A survey from Freddie Mac finds that:
". . . nearly two-in-five potential homebuyers would consider purchasing a home requiring renovations." 
A professional can help you decide what you need to tackle. It's not canned advice you could find online – it's recommendations specific to your house and your area.
2. They Help Maximize Your Buyer Pool
Today, the average home is getting 4.8 offers per sale according to recent data from the National Association of Realtors (NAR), and that competition is pushing prices up. While that's promising for you as a seller, it's important to understand your agent's role in bringing buyers in.
Real estate professionals have an assortment of tools at their disposal, such as social media followers, agency resources, and the MLS to ensure your house is viewed by the most buyers. According to realtor.com:
"Only licensed real estate agents can list homes on the MLS, which is a one-stop online shop of sorts for getting a house seen by thousands of agents and home buyers. . . . This is certainly one of many good reasons why the majority of home sellers decide to employ the services of a listing agent rather than going it alone."
Without access to these tools, your buyer pool is limited. And you want more buyers to view your house since buyer competition can drive your final sales price higher.
3. They Understand the Fine Print
Today, more disclosures and regulations are mandatory when selling a house. That means the number of legal documents you'll need to juggle is growing. That's why Investopedia says:
"One of the biggest risks of FSBO is not having the experience or expertise to navigate all of the legal and regulatory requirements that come with selling a home."
A real estate professional knows exactly what needs to happen, what all the paperwork means, and how to work through it efficiently. They'll help you review the documents and avoid any costly missteps that could occur if you try to handle them on your own.
4. They're Trained Negotiators
If you sell without a professional, you'll also be solely responsible for all the negotiations. That means you'll have to coordinate with:
The buyer, who wants the best deal possible
The buyer's agent, who will use their expertise to advocate for the buyer
The inspection company, which